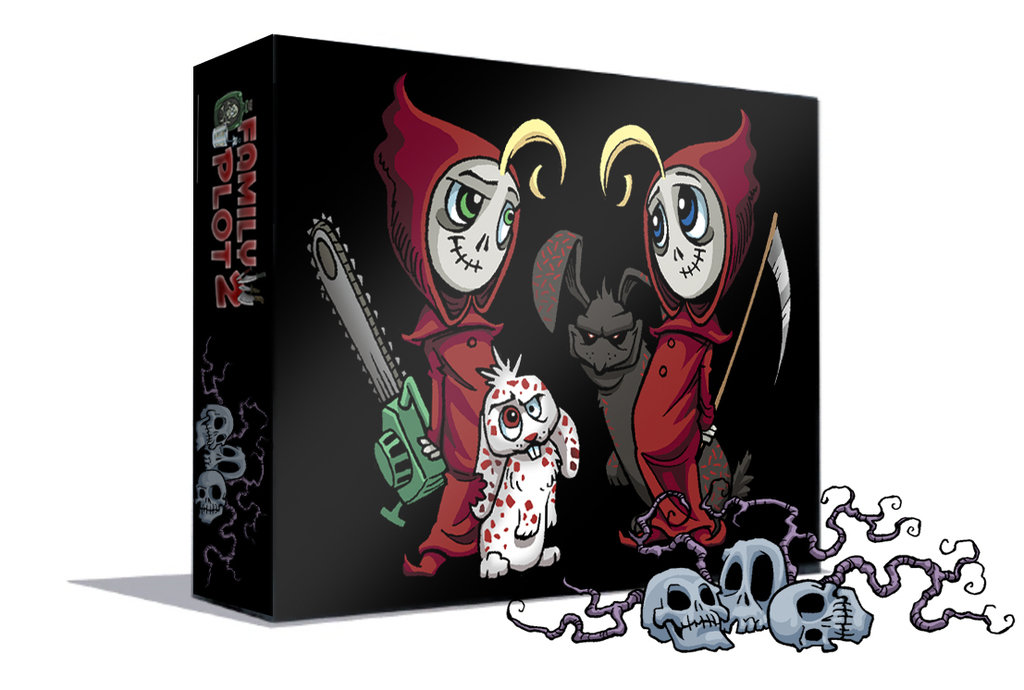 FAMILY PLOT & FAMILY PLOT 2
Created by White Cherry Games
In Family Plot, each Player strives to build their perfect family while keeping other Players from killing them off one by one!
Latest Updates from Our Project:
ARE YOU READY???
about 3 years ago – Mon, Nov 11, 2019 at 08:45:49 PM
https://www.kickstarter.com/projects/872094147/family-plot-2
DOUBLE THE BADNESS . . .
about 3 years ago – Mon, Nov 04, 2019 at 11:50:08 PM
 LOOKS LIKE THE REAPER STORK HAS BEEN BUSY! TWINS! 
Meet Penelope and Chunks. We never realized Penny has a twin, but looks like things are  getting a bit interesting in the old Graveyard! We're hoping to launch on 11/12. One more week. So, spread the word. This is the FAMILY PLOT you never wanted. BE AFRAID!
FAMILY PLOT 2.0 IS COMING . . . SOON.
about 3 years ago – Wed, Oct 30, 2019 at 01:07:07 AM
This is Teddi Ray. He's a Socialite Yeti. He's coming to Kickstarter soon, probably a lot sooner than anybody really wanted. Are you ready? No, seriously. Are you?
FAMILY PLOT 2.0 IS COMING!
 November will never be the same . . . and we apologize in advance. 
HAPPY NEW YEAR REAPERS!
almost 5 years ago – Mon, Jan 08, 2018 at 05:06:14 PM
GOOF DAY REAPERS! We hope you're having a MOST AWESOME 2018 so far, as much as a Reaper deserves that is! We wanted to take a sec to pick your tiny Reaper brains because . . . MORE FAMILY PLOT IS COMING SOON!!! That's right . . . we're hard at work (except JT, but are you really surprised?) on something NEW and EXCITING-ish and want to hear from our original Reapers. Of course, you weren't around when FAMILY PLOT was born, but you hated yourself just enough to dig a hole in the graveyard and hang around! SO we want to hear what YOU would like out of a "sequel" of sorts, and we promise to pretend to listen!!!
Yeah yeah, we know . . . BIGGER BOX! There will be a bigger box. We're trying to decide if this will be an add-on or if we just put what we're cooking up in a new bigger box that will house all your sad Family Plot goods, including the original core . . . and yeah, we're going to take SLEEVES into consideration, especially hoodies and turtlenecks. We love those! 
Something else new I can confirm is that there will be DICE! Yeah, we're adding a DICE element which is going to be SUUUUPEEEER SOMETHING! I don't know what kind of something, but custom Family Plot dice will be in the box!
And finally, we want you all to know that everything we do will ALL be playable together. We're not going to pull a fast one like other companies and create new stuff you can't use with the original. From the very beginning, we created Family Plot with the idea that YOU could create your own gameplay and as we add more, you'll be able to create your own FAMILY PLOT DREAM DECK! How freakin' depressing is that!!???
We've decided that destroying 2018 begins with us and we're committed to doing our almost best! You're welcome. Now, hit the comments below and let us know how we can disappoint you!!! What would you love? Leather goods? More Unicorns? Dwarf riots? Reaper/Angel love babies? 
We're going to give this new Family Plot goodness at least 43% effort, so hop aboard the terror train before it even leaves the station. Don't you deserve that much???
And, oh yeah . . . KEEP ON REAPING!!!!